Vessels
Read more
Hide Text
This service is operated by a number of Modern Geared Multi-Purpose/Tween deck vessels.
These modern multi-purpose ships can carry various cargo and are equipped with cranes that can handle up to 40 tonnes each, combined they can lift a weight of up to 75 tonnes. The fleet is high quality and well maintained and the crews are well trained in the safe handling of every cargo type. In all ports we enter, we work with a fixed team that is accustomed to our ships as well as the cargos we carry.
Click a link below for Vessel specifications.
BEAUTRADER Type: Geared Multi-purpose single/tween deck boxshaped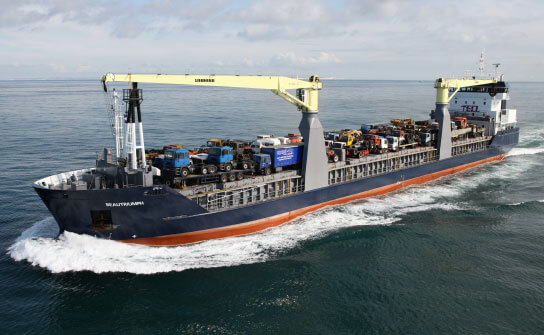 Main principles
Built
2008
Port of Registry
Sneek
Flag
Dutch
Callsign
PHQD
IMO number
9428657
Length over all
118,40 m
Length between perpendiculars
111,36 m
Beam moulded
15,9 m
Draft
6,65 m
GT/Nt
51.32/2.891 t
Airdraft - keel/mast
27,9 m
Airdraft - keel/mast down
na
Hwlthc ballast
4,7 m
Hwlthc loaded
6,7 m
**All details believed to be correct and subject to reconfirmation**
Class Regulations
BV 1 General Cargo Ship, Unrestricted Navigation, Hull, Mach, 100A1, LMC, UMS + SCM, Ice class 1A
Compliant with USCG regulations
Suez Canal
Tonnage measurement certificate
Panama Canal
No
Ice Class
Yes
IMP Cargo Fitted
Yes, as per dangerous goods certificate
ISM-ISPS Fitted
Yes
Loading capacities
Deadweight
7.120 mt
DWCC summer pending on bunkers
7.215 mt
DWCC winter pending on bunkers
6.980 mt
Holds
2
Hold dimensions 1
32,66 x 13,20 x 9,70 m
Hold dimensions 2
51,12 x 13,20 x 9,70 m
Full Box
Yes
Hold capacity
371 cbft
Container capacity
321 TEU

in hold

156 TEU

on deck

165 TEU
Pontoon hatchovers
13
Gantry crane
Yes
Tanktop strength
17 t/m2, suitable for heavy cargo capable to load steel coils of max 4,5 mt each
Grain stowage fitted
Yes
Grain bulkheads
4 tweendeck parts can be placed
Hatchover strength
1,6 t/m2
Air-dry installation
No
Hold ventilation
Yes
**All details believed to be correct and subject to reconfirmation**
BEAUTRITON Type: Geared multi-purpose box shaped single/tween decker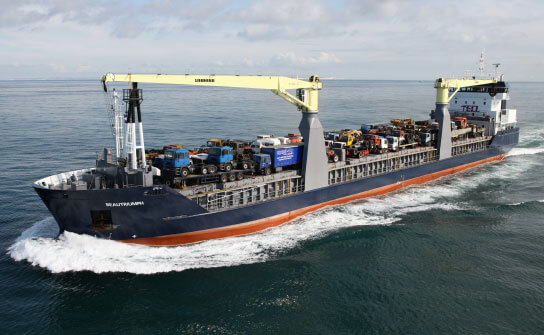 Main principles
Built
2009
Port of Registry
Sneek
Flag
Dutch
Callsign
PHQC
IMO number
9428669
Length over all
118,14 m
Length between perpendiculars
112,29 m
Beam moulded
15,90 m
Draft summer/winter
6,65 m/6,51 m
GT/Nt
5.132/2.891 t
Airdraft - keel/mast
32,46 m
Airdraft - keel/mast down
na
Hwlthc ballast
abt 6,60 m
Hwlthc loaded
abt 4,46 m
Bowthruster
yes
**All details believed to be correct and subject to reconfirmation**
Class Regulations
LR, 100A1 Strengthened for heavy cargoe, Hull, LMC UMS SMC, Ice class 1A
Compliant with USCG regulations
Suez Canal
Tonnage measurement certificate - yes
Panama Canal
Yes
Ice Class
Finnish-Swedish 1A
IMP Cargo Fitted
Yes, as per dangerous goods certificate
ISM-ISPS Fitted
Yes
Owners P&I
NNPC
Loading capacities
Deadweight summer / winter
7.120/ mt
DWCC summer pending on bunkers
6.450 mt
DWCC winter pending on bunkers
6.250 mt
Holds
2
Hold 1 dimension
32,60 x 13,20 x 9,70 m
Tweendecks hold 1
19,35 x 13,20 x 4,60 m
Hold 2 dimension
51,10 x 13,20 x 9,70 m
Tweendecks hold 2
53,50 x 13,20 x 4,60 m
Full Box
narrowing last 11,25 m at fwd hold to 7,0 m
Hold capacity
371.155 cbft
Container capacity
336 TEU

in hold

171 TEU

on deck

165 TEU
Pontoon hatchovers
13
Cranes
2 x 40 mt / 24,80 m reach
Gantry crane
Yes for hatchcover pontons
Tanktop strength
17 t/m2, suitable for heavy cargo capable to load steel coils of max 30 mt each
Grain stowage fitted
Yes
Grain bulkheads
4 t/d part placeable as bulkhead in @ 10 pos
Hatchover strength
1,60 t/m2
Tweendeck strength
3,00 t/m2
Air-dry installation
No
Hold ventilation
yes, 6 airchanges p/h
**All details believed to be correct and subject to reconfirmation**